A Rainbow for Kesha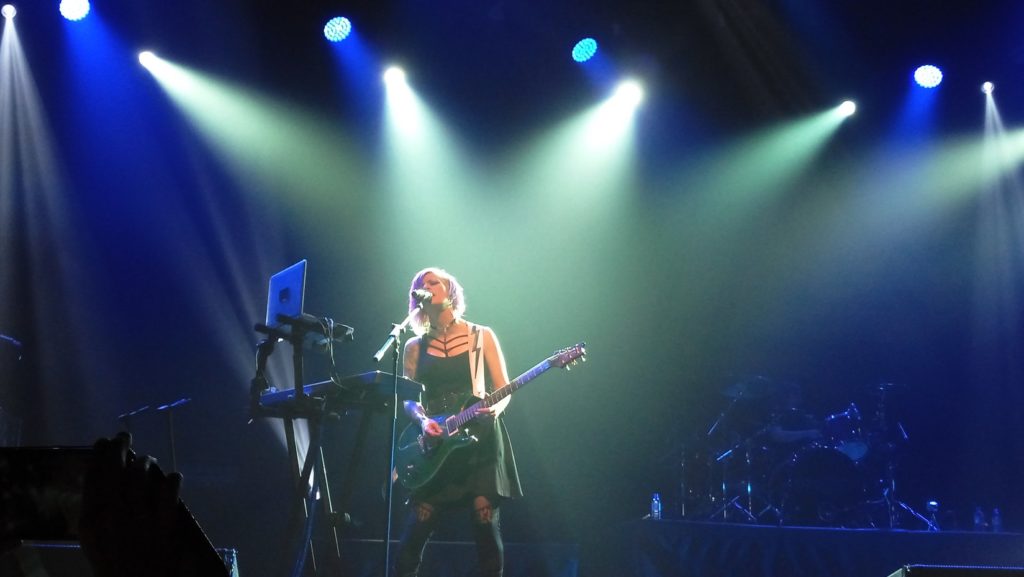 Most of you know that Kesha returned to the music industry with her 3rd studio album Rainbow, her first full album in nearly 5 years . It deftly weaves genres, from the rock bangers like the defiant "Let 'Em Talk", to country inspired wistful ballads like "Spaceship", to pure pop adrenaline in "Learn to Let Go". Rainbow is a triumphant return to the music industry from Kesha. It follows prior efforts Animal and Warrior, released in 2010 and 2012 respectively, as well as the EPs Cannibal in 2010 and Deconstructed in 2013. She was first launched into the pop music scene in her feature on the Flo Rida hit "Right Round", where she performed the chorus. Soon afterwards, she released her debut single "Tik Tok", which topped charts worldwide. Animal also spawned the hit singles "Blah Blah Blah" featuring 3OH!3, "Your Love is My Drug", and "Take It Off". The spin-off EP Cannibal had similar amounts of success with it's singles, with "We R Who We R" and "Blow" both reaching the top 10. While her Warrior era never quite managed to reach the commercial heights of the prior one, "Die Young" was a smash hit, and both "C'Mon" and "Crazy Kids" perform respectfully. Soon after Warrior died down, she released a chart-topping collaboration with Pitbull, "Timber". Rainbow is headlined by the hit single Praying, which also contains promotional singles "Woman", "Learn to Let Go", and "Hymn". It debuted at number 1 on the Billboard 200 with 117k album equivalent units and 90k pure album sales, and has sold 470k copies worldwide as of December of 2017. Upon its release, Rainbow achieved high acclaim from music critics, with a score of an 81 on Metacritic and scoring her 2 Grammy nominations, for Best Pop Vocal Album and Best Pop Solo Performance for "Praying". The road to Rainbow has been a long and tumultuous one for Kesha. Her struggles between Warrior and Rainbow date back to 2014, where she was checked into rehab for an eating disorder. Soon after leaving rehab and a short stint on the poorly performing singing competition "Rising Star" on ABC, she sued her long-time collaborator and producer, Dr. Luke, for sexual assault and battery, sexual harassment, emotional abuse, and gender violence, all of which occurred over the years they had spent working together. I will refrain from saying more on the issue than has already been said in the background and the press. One of the goals of her lawsuit was an attempt to be released from Kemosabe Records and, ultimately, Dr. Luke's influence. In a heart-breaking verdict, she lost her case, as the statute of limitations had run out on the most specific allegations, and an overall lack of concrete evidence to support her claims. After the resolution, she released an updated version of Zedd's song "True Colors", her first song in almost 3 years. She then embarked on her third world tour, the Kesha and the Creepies: Fuck the World Tour, which featured rock and country versions of her hits. After the tour ended, she completed work on her third studio album, which, despite having to work for the same label, was done without her working with Dr. Luke.
Rainbow Tracklist:
Bastards
Let 'Em Talk (ft. Eagles of Death Metal)
Woman (ft. The Dap-Kings Horns)
Hymn
Praying
Learn to Let Go
Finding You
Rainbow
Hunt You Down
Boogie Feet (ft. Eagles of Death Metal)
Boots
Old Flames (Can't Hold a Candle to You) (ft. Dolly Parton)
Godzilla
Spaceship
Emotional
I am pretty happy with the album. I didn't pick it up at first, though I knew that it was out. Mainly because I haven't enjoyed Kesha that much after her second album came out, but this is a worthy addition. Though "Woman", resorts to cheap "girl power" lines without opting for something with a little more depth to it.
Track-By-Track Review
Bastards
While the message is a bit simplistic, it is a beautifully executed song and is one of the three songs that benefits from the slow acoustic build up. It is a song that serves as more of a thesis statement for what is to come. She knows that "people [are] gonna talk shit" regardless of what she does, but she's done letting that get to her. It is one of two self-written tracks on Rainbow, and, while maybe not sonically fitting the norm for album openers, serves perfectly in its role. It is a declaration to anyone who has ever doubted her and tried to put her down. She's only singing na na's, la la's, da da's, and hey's, but the bursting instrumentation really elevates the moment to one of the most meaningful and beautiful on the album.
Let 'Em Talk
"Let 'Em Talk" is the biggest banger on the album and an overall highlight. Not only is it a delightful callback to her earlier songs such as "Thinking of You", she also has a phenomenal delivery of the line and just really sells it in a way that not many other artists could. In a song that is as full of high points as this one, it would normally be too difficult to pick the best moment. However, here it is unquestionable. In the bridge, with backing vocals from the Eagles of Death Metal, she proclaims that "all the haters everywhere can suck [her] dick". The track doubles down on the message of "Bastards" but in a much more anthemic manner.
Woman
"Woman" is a triumphant anthem of independence and feminism though I feel that it is lacking in maturity and takes a naive approach to the subject. What really stands out from the rest for me in this song is the bridge. "Woman's" bridge really captures the spirit of the song, and is empowering, fun, and liberating for her, all at once.
Hymn
The message of "I know that I'm perfect even though I'm fucked up" emphasized throughout the song makes it even more special to me, it has really helped me since this song was released "Hymn" serves as a huge shout-out to those who feel left behind, or forgotten about, or outcast. This is not exactly unfamiliar territory for a Kesha song to tread on, however it has more impact and a genuine tone, more so than "Woman" considering her being largely outcast from the industry during her trial.
Praying
It's beautiful, it's powerful, it's everything I could ever want in a song like this. It's extremely well written, and the high note is everything. While the high note is obviously the most technically powerful moment in the song, the raw emotion behind "I'm proud of who I am" is incredible, making it my favorite part of the song. I'm not really sure there's much left to say about "Praying". Everything that's needed to be said has been said.
Learn to Let Go
There isn't really one standout moment throughout the song, it's great the whole way through. While the power behind "Praying" cannot be matched here, this song is more than a good enough follow-up. It's a very fun song to listen to that's among the catchiest on the album. One of the clearest single choices here.
Finding You
If I were to pick a least favorite song on the album, it would likely be "Finding You". This isn't to say that this is a bad song. She has some vocal quivers in here in the final chorus that really strengthen the song, which is my personal favorite moment. Still, it doesn't really do much to feel special in my opinion. "Finding You" is sandwiched between powerful songs about accepting who you are as a person, flaws and past and all, and it's about a true love that goes beyond time.
Rainbow
Anyone who doesn't get chills when she says "what's left of my heart's still made of gold" is either a liar or heartless. I know I really lauded "Praying", as it deserves, but this one really takes the cake for me. The pure emotion as you would expect from such a song is evident throughout and it is really one of the only Kesha songs I have ever felt like I have related to. It's such a beautifully written song.
Hunt You Down
This is a country-pop dripping song that is lyrically not unlike "Before He Cheats" by Carrie Underwood. "Hunt You Down" starts off a bit of a wild turn for the album that really helped. It is also very reminiscent of older Kesha, reminds me a little bit of a slightly less gory "Cannibal". The best part of the song is the hook, "If you fuck around, boy I'll hunt you down."
Boogie Feet
"Boogie Feet" is just one enjoyable shot of adrenaline and that means that there is single no one best part of this song. This is the most old-Kesha song on the album easily and shares the fun of her first album lyrically. The Eagles of Death Metal influences also help enhance the feel of her older music. It's a bit our of place considering the country influences of the prior song and the four following, but that doesn't take away from the insane amount of pure fun this is.
Boots
I couldn't figure out why it was a fan favorite. It wasn't particularly catchy and didn't really do much to strengthen itself beyond the stronger country-pop influenced songs on the album like "Hunt You Down". Much like the past few songs, it just feels really Kesha.
Old Flames (Can't Hold a Candle to You)
Here, Kesha teams up with Dolly Parton to do their take on one of country music's landmark tunes. While it may not be enjoyable to those who don't like country music, I found this to be a very strong take on the original song, and a great song to just kind of chill out and listen to. And, as usual, Dolly Parton kills it.
Godzilla
This is one of the strangest, most weird songs on the album. While it's not really quite the kind of song that one would add to their playlists, it's certainly a worthy listen and will be enjoyed by many. The simplistic ending of "what do you get when you meet Godzilla and fall in love" works very well for the song, making it my standout. It also holds a lot of personal meaning for Kesha, since her mom wrote it.
Spaceship
It is another song of feeling outcast from the world and feeling like you belong in a different one. It is also a personal highlight of the album, with the first two being "Praying" and "Rainbow". She accepts that she doesn't belong and holds out hope that those that she belongs with are coming back to save her from this world filled with hope. It manages to feel meaningful and intelligent without being pretentious and works really well in both the context of the song and the album as a whole. Nor could I think of a better way to end such a powerful album.
A